CAHR Applauds California Assembly Passage Of Healthcare Reform Legislation
|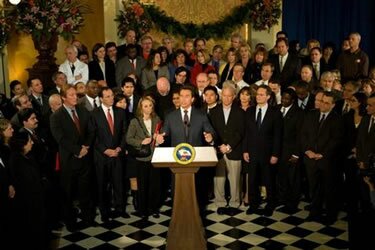 CAHR Chairman and Safeway CEO Steve Burd joined Gov. Schwarzenegger, Assembly Speaker Fabian Nunez and more than 100 other business leaders, labor leaders, lawmakers and other stakeholders in a Capitol Rotunda press conference to applaud the Assembly's passage of a comprehensive reform bill in California. This action marked an important step toward achieving reform in California this year.
Listen to the press conference here.
The Coalition to Advance Healthcare Reform (CAHR) is an active coalition of more than 50 employers and business leaders. and growing, committed to moving healthcare reform forward at both the state and federal level. Our goal is to advance meaningful, market-based solutions to our nation's healthcare crisis. Members of CAHR believe there are five core elements essential to any meaningful reform including:
Market-Based Healthcare System

Universal Coverage with Individual Responsibility

Financial Assistance  for Low-Income Individuals

Healthier Behavior and Incentives

Equal Tax Treatment



TOP NEWS

ANNOUNCEMENTS

Wednesday, January 30, 2008

Sacramento Bee: Governor: Time To 'Regroup'

It's not over for a health care plan for California, as far as Gov. Arnold Schwarzenegger and Assembly Speaker Fabian Núñez are concerned.  more...

Wednesday, January 30, 2008

San Francisco Chronicle: Bill 'Over,' But Governor Won't Give Up

Gov. Arnold Schwarzenegger, flanked by Assembly Speaker Fabian Núñez and representatives of two dozen interest groups, pledged Tuesday to work with them to salvage an ambitious plan to reform the state's ailing health care system.  more...

:: Read all news ::

Monday, January 28, 2008

CAHR Commits To Moving Forward On Reform In California

 

California's Senate Health Committee failed to pass comprehensive healthcare reform today in Sacramento. CAHR issued a statement expressing our disappointment and committing to continue to work with lawmakers, Governor Schwarzenegger and other stakeholders to develop comprehensive reform. Read our statement here. 

Wednesday, January 23, 2008

CAHR Urges California State Senate To Support Healthcare Reform Legislation!

 

At a hearing in California's State Capitol today, CAHR urged members of the Senate Health Committee to support the healthcare reform legislation passed by their counterparts in the Assembly last month. Read CAHR's press release here. 
 

RECENT EVENTS

IN THEIR OWN WORDS

"If we're serious about health care reform in the US, all parties must come to the table and focus on the true driver of health care costs, which is the epidemic of chronic disease. We need a system that promotes disease prevention, better management of chronic diseases, and investment in the innovations that will lead to better treatments in the future."

Chris Viehbacher,
President of US Pharmaceuticals for GlaxoSmithKline

GET COALITION UPDATES

ACT NOW TO HELP CURE OUR DISEASED HEALTHCARE SYSTEM